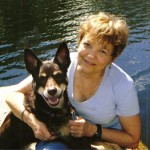 Kathryn Horn is a professional dog trainer, a full member of the Association of Pet Dog Trainers, and an associate member of the International Association of Animal Behavior Consultants.
She is an honors graduate of the prestigious San Francisco SPCA Academy for Dog Trainers, acknowledged around the world as the "Harvard of Dog Training," and a former judge for the North American Dog Agility Council and United States Dog Agility Association.
Kathryn has more than 20 years' experience training dogs of all kinds. To stay current on canine behavioral learning and dog training techniques, she regularly attends workshops, for example with such industry leaders as Suzanne Clothier, Jean Donaldson, Dr. Ian Dunbar, John Rogerson, Kay Laurence, and Nicole Wilde; dog sport luminaries such as Stuart Mah, Denise Fenzi, and Ruth Hobday; and animal health expert Kymythy Schultze.
When Kathryn isn't busy training other people's dogs, she spends time with her own, Kwiekje, an Australian Kelpie and Kado, a mixed breed dog who recently joined their family. Together, Kwiekje and Kathryn have fun with agility, competing at the Elite level.  Kado loves to cuddle and run and hasn't decided if he wants to do sports or just enjoy being a dog. Kathryn and Kwiekje love having Kado as part of their family!